[pdf-embedder url="//hk03-1251009151.file.myqcloud.com/smthelp.com/desc/2019/04/SF680-FPC-Vision-PCB-Separator-Machine.pdf" title="SF680 FPC Vision PCB Separator Machine"]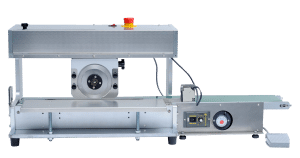 Features:
To connect multiple pieces of the board after the solder, broken often damage the circuit or break the electronic components, the machine to move the knife to split, which can completely reduce the stress, to prevent solder cracking and parts cracking, improve production efficiency and quality .

Using the knife on the knife under the flat knife, the plate as the next flat knife, switch a step on the circular knife move to the set point of the move, the PCB will be cut off the cut, cut off without silk, incision formation, no flash
Features:
Completely independent development, the use of microcomputer control, precision fixed point, strong stability. Cut off a single board within 0-360MM long

Cutting board cutting speed can be adjusted high, low two, the speed of 500mm / S and 300mm / S

Knife wheel path: 0-360mm. Knife round height adjustment: 0-2mm for a variety of PCB thickness to solve the problem of PCB board V-CUT slot depth. Console adjustable height: 0-50mm.

The path of travel can be set with the length of the board forward stop fixed point, stop fixed point set manually

Rear baffle depth range: unlimited. Maximum board cut-off width: Unlimited, Maximum board cut-off length: 360mm, Board maximum thickness: 0.2-5mm, Maximum slot thickness between slots: 0.25-2.0mm

Upper and lower knives for the import of high-speed steel, extremely durable, when the knife negative, can be re-ground

Can also be an additional set of conveyor belt, easy to cut the PCB automatically sent

lifting platform platform movements, the platform elevation, can affect the quality of the product, not easy to cut the product can also reduce stress

Limit device, you can apply different sizes of products, thereby enhancing work efficiencySpecifications:Power: Single-phase AC230 / 110V 50-60HZ, 40WMachine size: L1000 * W395 * H425mmPacking size: L1100 * W420 * H450mm,

Conveyor belt size: L1030mm * W220mm * H130mm

Net weight: 47Kg, Package weight:

Tool Material: SKD61 imports of high-speed steel, the round knife: diameter 125mm, the next straight knife length: 360mm

Basic maintenance:

1, the work is completed, turn off the power, remove debris.

2, always pay attention to the upper and lower cutter protection.

3, a long time not working, please remove the upper and lower cutter, and coated with oil to be protected, please wipe before use.

4, pay attention to check the fastening of the screws.

Customers FAQ About PCB Separator S-D509:

1. Q:Do you have any certification for this machine?
A:YES,We have CE ISO FCC ROHS etc.

2. Q:What is warranty of the machine?
A:1 year.

3. Q:How do you pack the machine?
A:We fix the machine on the plywood base with screws to ensure safe transportation.

4. Q:What is life time of machine blades?
A:About 6-12 months.

5. Q:What is material of blades?
A:Japan high speed steel SKH-9

6. Q:Can the blades be sharpened?
A:Yes, they could be re-sharpened for 2-3 times.

7. Q:How do you offer oversea service?
A:We could send engineer to do installation and training for client if needs.

8. Q:Can we see your machine in our country?
A:Yes, we would like to offer contact details of our clients who are using our machines.