The SME5600 inline PCBA cleaning system is an innovative automated solution for removal of flux residues and contaminants from printed circuit board assemblies (PCBAs) after soldering. This in-line PCBA washer uses water-based detergents and ultrasonic cavitation to thoroughly clean PCBAs, leaving them in pristine condition prior to conformal coating or final assembly.
With a compact modular design, the SME5600 PCBA cleaning machine has a high processing capacity of up to 25-30 PCBAs per hour. Its advanced control system allows adjustment of transport speed, ultrasonic power level, washing times and water temperature to suit different PCBA types. Dual counter-rotating ultrasonic transducers generate ultrasonic waves which create microscopic bubbles that implode to dislodge all surface contaminants without damage to components. The 5μm filtration system provides continuous contaminant removal and clean rinsing.
Minimal operator intervention is required as PCBA loading/unloading are automated. This improves throughput, quality and consistency. Stainless steel construction, including tanks, mesh belt, and other parts are durable and long-lasting.
Using the SME5600 inline PCBA cleaning system prolongs PCBA life by removing ionic residues that can cause electrochemical migration. PCB assembly quality and reliability are improved through complete flux and contaminant removal. Production output is increased as a result of clean PCBAs, fewer defects and less rework or downtime.
The SME5600 PCBA cleaning machine is an eco-friendly, sustainable solution that uses only water-based detergents. For high volume electronics manufacturing facilities, the SME5600 achieves rapid return on investment through improved process efficiency, reduced rework and costs savings compared to manual cleaning methods. Overall, the SME5600 inline PCBA cleaning system is the optimal solution for maximizing PCBA cleanliness, quality, throughput and productivity.
More pictures please click SMT THT Albums
Looking for 3D machine model please click SMT Machine 3D Drawing
Looking for SMT machine Catalog please click SMT Machine Catalog
Call to discuss SMT machine please click WhatsApp SMT
Email to SMT Specialist please click SMT Specialist
Features
1.Through clean rosin flux, water-soluble flux, non-clean flux, solder paste, and other organic and inorganic contaminations on PCBA.
2.2-layers cleaning basket: 610mm(L) ×560mm(W) × 100mm(H) x2 layers.
3.State of the process is visible through a large observation window.
4.Clean detergent heat system heat cleaning detergent to a certain temp, raise cleaning efficiency and reduce clean time.
5.Easy operation interface, quick setting clean parameters. Different passwords can be set.
6.Inner filter makes detergent used repeated. Real-time measure DI water resistivity and monitoring cleaning effect. The resistivity range is 0~18 MΩ.
7.The remaining detergent in the pump and pipes are blown off by compressed air and flows back to the cleaning tank. This function saves detergent up to 50%.
8.High standard cleanliness, ionic contamination completely meets the requirement of the IIPC-610D I class.
9.Totally SUS304 structure, very firm and attractive.
Machine Overview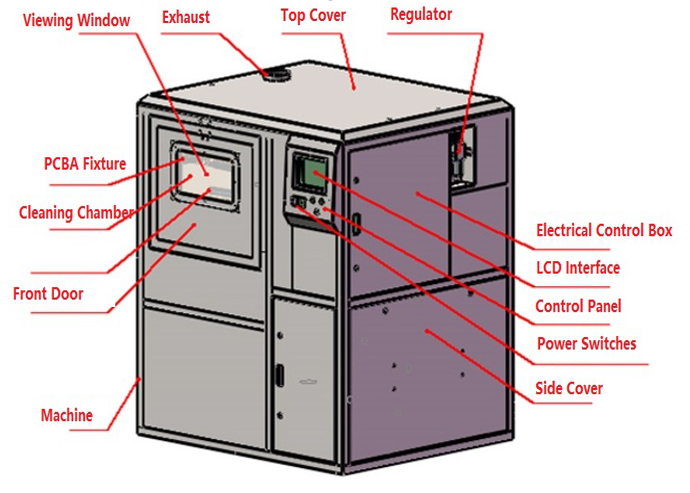 SME5600 PCBA Cleaning Machine Overview
Machine details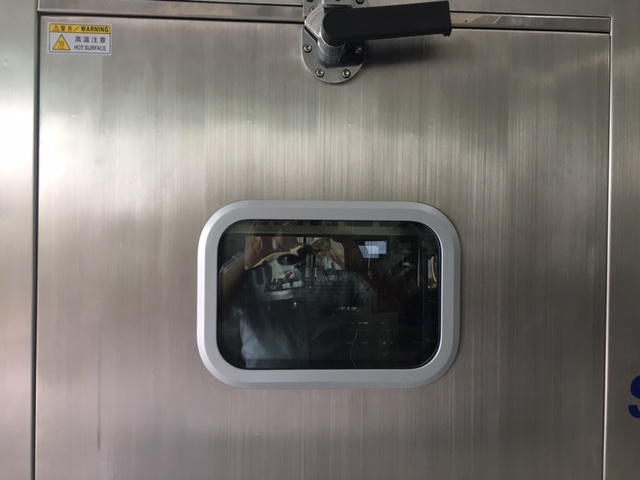 SME5600 PCBA Cleaning Machine Visible window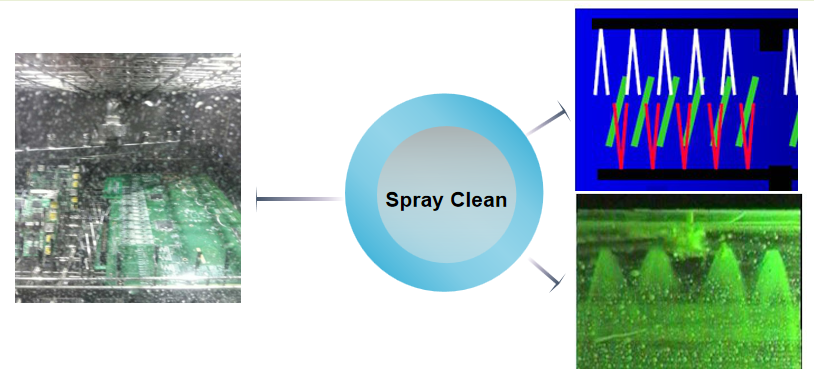 SME5600 PCBA Cleaning Machine Cleaning method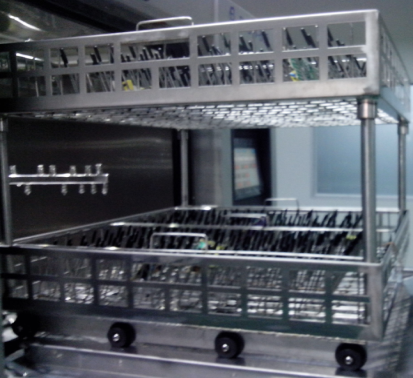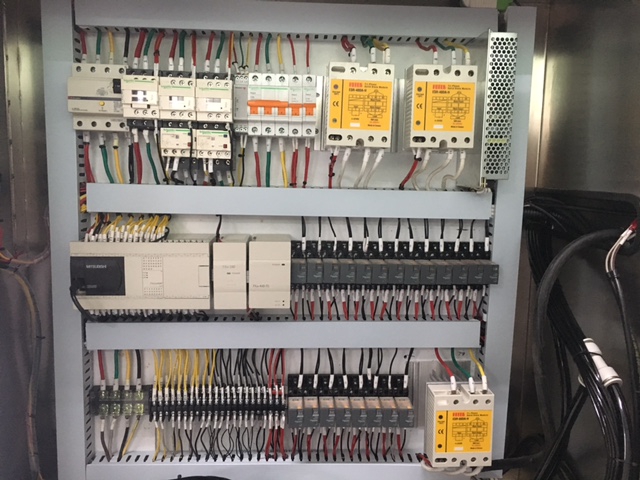 SME5600 PCBA cleaning machine Control box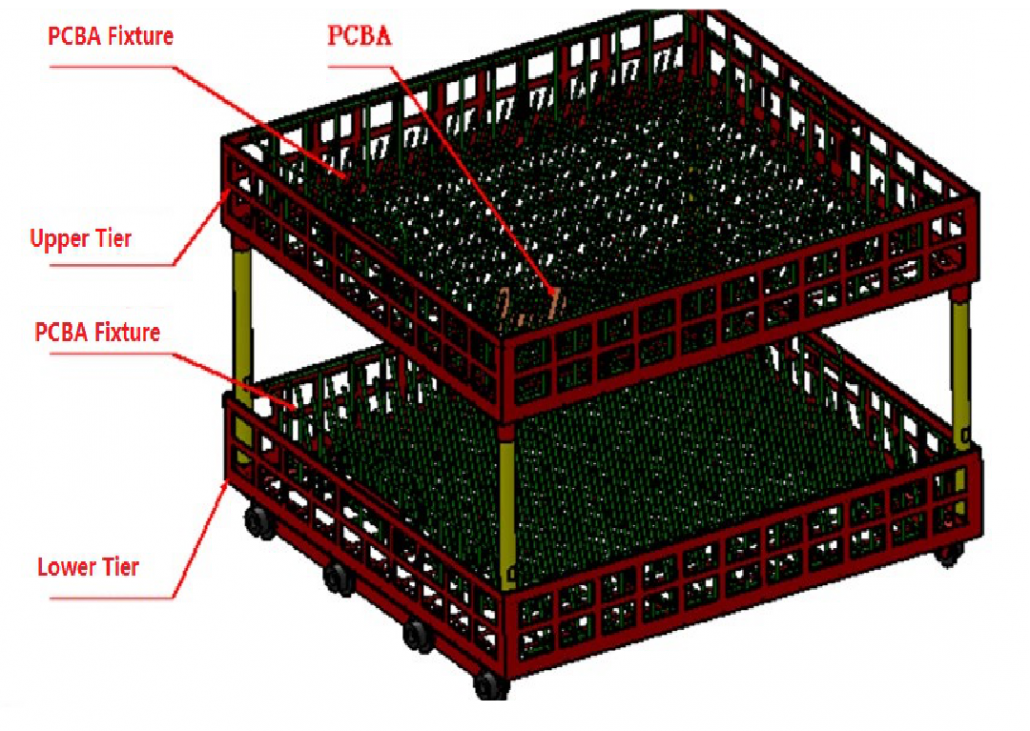 SME5600 PCBA Cleaning Machine Cleaning Basket
SUS 304 Stainless Steel structure including Fixtures
PCBA Fixture Overall Dimension:610mm * 560mm* 480mm
Biggest PCBA dimension:560mm*550mm * 130mm
Smallest PCBA dimension:80mm*50mm , up to 200pcs
Cleaning Process

SME5600 PCBA Cleaning Machine Cleaning process
Chemical detergent clean —- DI water Rinse —- Hot-air Drying
Upper/middle/lower 3 360° rotation spray rods, 2 layers cleaning basket
Flow chart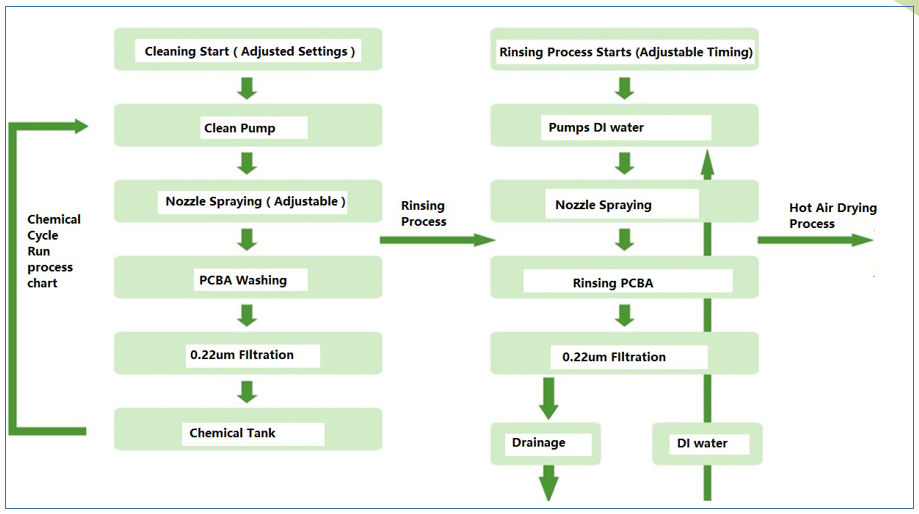 SME5600 PCBA Cleaning Machine flow chart
In general, the cleaning process time is 40-60 min in total, under special circumstances according to the actual situation
Cleaning time:10-20 min; cleaning temperature:40 ℃- 60 ℃
Rinse time:1-2 min, rinse 3-5 times; rinse temperature:70-75℃
Drying time:20-30 min, drying temperature:70 ℃-95 ℃,
Cleaning Method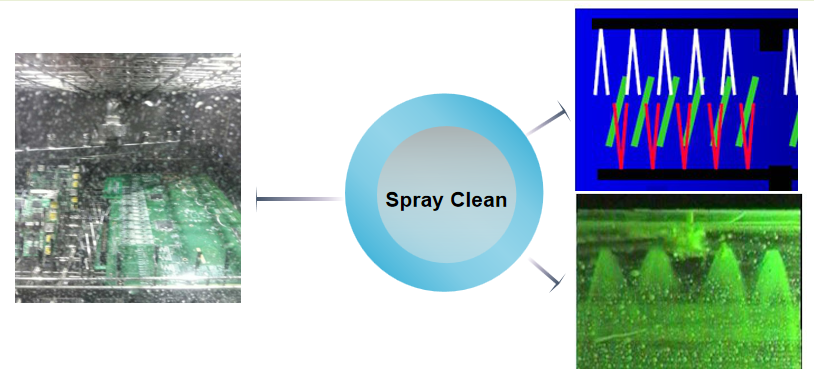 SME5600 PCBA Cleaning Machine Cleaning method
Cleaning result

SME5600 PCBA Cleaning Machine Cleaning result
Specification
No.
Item
Parameters
No.
Item
Parameters
1
Cleaning basket size
610mm(L)*560mm(W)*100mm(H)

x 2 layers

14
Drying Heater/KW
6KW
2
Liquid tank capacity
30L
15
Spray Pressure
30PSI – 80PSI/(Adjustable)
3
Dilution tank capacity
60L
16
Chemical liquid level filter
0.22μm (filter microparticles solder paste, rosin, flux and contaminants)
4
Spray tank capacity
18L
17
DI water Filter
0.22μm (filter microparticles solder paste, rosin, flux and contaminants)
5
Temporary tank heater
6KW
18
water inlet
1 inch fast junction interface
6
Cleaning time
0~99min(adjustable)
19
Water outlet
1 inch fast junction interface
7
liquid temp
Room temp -75℃ / (adjustable)
20
Chemical Inlet
1 inch fast junction interface
8
Rinse time
1-99 times / 1~2min each time
21
Real-time pressure gauge
3PCS (nozzle / DI water / waste liquid)
9
Rinse water temp
Room temp -75℃ / (adjustable)
22
pump
5.5KW
10
Drying time
0 to 99 minutes / (adjustable)
23
Aire Outlet size
Φ100XH30(mm)
11
Resistivity meter monitoring range
0~18MΩ
24
Power source
AC380V 50HZ 65A/0.45MPa~0.7MPa
12
liquid tank heater
9KW
25
Weight
600Kg
13
Drying Temperature
Room Temp–99℃/(Adjustable)
26
Machine Dimension
1300mm(L)*1200mm(W)* 1850mm(H)
Find us more: https://www.facebook.com/autoinsertion
Know more about our team: https://cn.linkedin.com/in/smtsupplier
Looking forward to your email: info@smthelp.com / wendy@smthelp.com