[embeddoc url="//hk03-1251009151.file.myqcloud.com/smthelp.com/desc/2015/12/S7000-Odd-form-Insertion-machine-Operation-Manual-1.pdf" download="all"]The S-7000 pin insertion machine is a custom-made model for square pin insert. PC control, servo motor drive, vision programming.SMEMA connector.
MD-CE- -S7000 Odd form machine ROHS–S3000 Radial Insertion Machine
[Canvasio3DPro templateID="17″ objectID="20″][/Canvasio3DPro]
It is not just another robotic platform that can handle the rigors of inserting small to large, light to heavy odd-form components. The platform must have the flexibility to use gripper tooling or vacuum nozzles and sometimes both. And the components should also be in proper delivery mediums to ensure best pick performance.
Odd-form components are the only remaining discrete components left to hand assembly of a Printed Circuit Board. The reasons are many, but the fundamental reason is that there are no standards that govern the shape, lead count, packaging, etc. Therefore, most manufacturers are left to handle the component as a special request for proposal and address the problem with a very customized platform.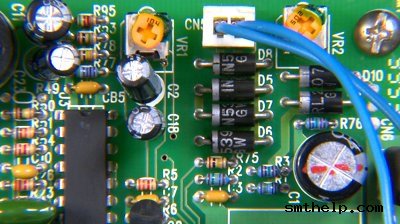 The automation platform that can handle the largest range of flexibility without heavy changes to the configuration is the platform that will ultimately find its way into the backend assembly of a PCB. Nearly all transformers, connectors, relays, etc. that do not come packaged or do not fit the typical parameters for a mainstream insertion machine have been assembled into PCBs for the last 20 years by hand. In a very large way, these components are the stimulus to move assemblies to low-cost manufacturing regions, where the labor rates are such that they can add people for very little additional cost.
While a portion of these applications are now being addressed with manual assembly, this is a trend that will likely diminish as economic factors shift against its support. As the labor rate and cost of energy rise in low-cost manufacturing regions, manufacturers will almost inevitably be forced to move to full automation of these products.
The best automation machine for the job can handle components ranging from a 0 .01" single pin to a 12" square block if required and do it without tool change or at least an automatic tool change. The machine must also be equipped with vision to inspect the leads and the top of the device for orientation or even position correction.

Using a super flexible automation equipment is only half the battle though… If the components are not in a production package (Radial tape, Tubes, Trays, etc), you are left with bulk delivery of the parts to the robot. While there are feed systems that have the capability to look at a pile of components and pick the one that is in the correct attitude and orientation, they typically are not good for electronic components. Electronic components have up to six stable states, which means that there are five opportunities that the part will not be positioned for picking! What most manufacturers do is default to a bowl feeder which is costly and hard tooled, defeating the benefit of the flexible robot.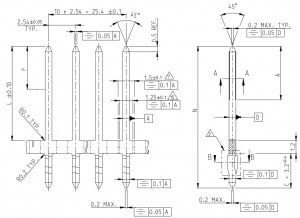 If you are considering automation of odd-form components in your PCB, in order of priority, consider these things:
Is your component available in a production package?

Is your lead to hole ratio suitable for automation?

Is the mechanical quality and repeatability of the component suitable for automation?

Does your component require lead preparation prior to insertion?

Does the process require that the component is clinched?
There are a lot more considerations, but these are the key factors that can make (or break) a successful implementation of odd-form components.
Save
Save
Save
Save
Save