Features:
· Visual recognition technology: four-head and six-head multifunctional visual mounter, using our innovative visual recognition software, to realize optical image capture placing alignment, and to realize faster speed and higher accuracy.
· Vacuum detection, automatically dispose and make up if picking fail or pick misaligned.
· Four/six pick and place head design helps increase output, 360-degree orientation.
· Works with different types of high-precision nozzles: you can replace nozzles manually according to the components size, which is more convenient and effective to shorten the replacement period.
· Humanization design, customized feeders.
· LCD monitor, window XP, keyboard and mouse input, easy operation (Chinese/English).
· The closed looping design: effectively prevent the influence of the machine axis motion accuracy from mechanical transmission error and nonlinear factors, guarantee the mounting precision during the mounting process.
· PCB track be adjusted automatically, suitable for mounting the monolayer, multilayer and soft PCB board.
· Can mount resistors, capacitors, QFP, CFP, such as 0402, 0603, 0805, 1206, 1812, 2010, 2512, LED (3528, 5050, etc.), SOT-23, SOT-89, SOT-223, SOT-252, SOP-8, SOP-14, SOP-16 and IC components (IC size under 16*12mm, fine-pitch above 0.5mm, the height of component less than 12mm) with required precision.
· Easy programming, only takes 2 mins: Automatic visual positioning programming.
· The surface of this machine is made of stainless steel material and Japanese imported high-grade powder spraying process, which can make the machine anticorrosive, anti-decoloring and durable.
Structure Summary — machine device, power system, visual system, electrical control system, software control system, movement control system, LCD display device.
· Standardization of packaging ensures safe transport.
· Warranty: The complete machine has a warranty period of 1 year from the time of purchase and lifelong service support as well as a long-term factory price supply. We provide online Q/A and troubleshooting support and technical advice service.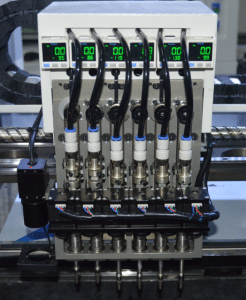 –The independent research and development of software, permanent free update.
–Can design according to customer demand changes to the software to meet
diversified operation needs (Other modified fee).
–Production type: LED fluorescent tube, soft light, module, display screen and
other LED application products
–Product features :Achieve a variety of surface type LED, high-power LED and SMT
electronic originals, fully automatic SMT
Other features :
SMT type: 0603 to 7474, all specifications can be pasted on the SMT SMD LED components. And besides all planar LED, other plane electronic components (such as resistors, capacitors, etc.), and can produce high power LED. Precision positioning: use the most convenient way of positioning block, substrate origin contrapuntal positioning, positioning precision (precision less than 0.05 mm). Angle range 0-360 ° , precision is 0.1 °. High speed: six head mount, maximum speed 38000 CPH. Stability: adopting the marble platform, airframe stronger stability, has the very good anti vibration characteristics and durability. All of the core parts adopt imported original abroad, to ensure that the service life at the same time, increase the stability of the machine. (panasonic servo motor, Taiwan HIWIN guide rail, screw, CKD solenoid valve, etc.) High precision: X, Y Axis is equipped with imported precision ball screw and guide rail, Z group six servo motor drive, better coordinate equipment arrived smoothly and reduce the abnormal noise, greatly improve the SMT precision and speed. Mount PCB specification: can stick various shapes PCB, without jig, can stick a 1.2 meters long a PCB. Function of supporting software, interface simple and easy, practical, visual online programming software, the software displays the puzzle in all coordinates of points, and the coordinates for fine-tuning, realize high precision SMT, don't have to manually input element coordinates, easy operation, combined with the actual needs of many LED manufacturers independent research and development design.
CLICK HERE TO SEND US AN EMAIL
Capacity forecast (20 HOURS) Fluorescent lamp:
3528(288chip)——2600 pieces/day 5050(144chip)——5200pieces/day Soft light belt:3528(60chip/meter)——12600meters/day
Save
Save
Save
Save
Save
Save
Save
Save
Save
Save
Save
Save
Save
Save
Save