We design and manufacture automatic machine for the PCBA/SMT and Thru-hole industries in Shenzhen
China. We help companies looking to low-cost equipment with smart, ROI-driven assembly equipment solutions.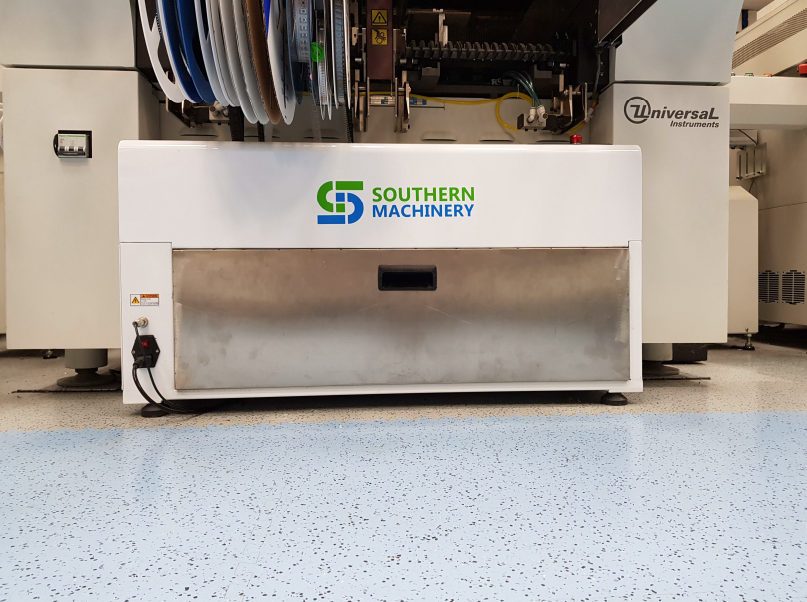 S-680A SMT Tape cutting machine Customer site
More pictures please click SMT THT Albums
Looking for 3D machine model please click SMT Machine 3D Drawing
Looking for SMT machine Catalog please click SMT Machine Catalog
Call to discuss SMT machine please click WhatsApp SMT
Email to SMT Specialist please click SMT Specialist
Introduction
This machine is used for SMT tape cutting, which in the chip mounter tape recycling place ;

The chip mounter usually has no function of tape recycling, the waste tapes are treated as garbage collection, and manually cut with scissors;
3.SMT automatic tape cutting machine is completely replacing the manual cutting tape, the cutting function of material belt and film is realized; The cutting tapes are recycled to the automatic tape cutting machine. Save time!
When the recycled tape and film are cut into the waste tape inside the SMT tape cutting machine, the cut tape and film fall into the extractable anti-static waste bin of the machine, which is convenient for the staff to collect and centralize the treatment after completion.
Using SMT tape cutting machine can not only better demonstrate the company's good 5S management ability, but also provide employees with a good and comfortable working environment.

Features

1. It is suitable for SMT tapes, which can be easily cut from 0.05 mm film to 1.5 mm thick tape.

2. The performance of the cutting machine is stable: the upper and lower cutters are made of imported hard high-speed steel, which is similar to the principle of scissors. The cutting machine cuts various material belts stably and durably. The effective cutting range of the machine is 0-560 mm.