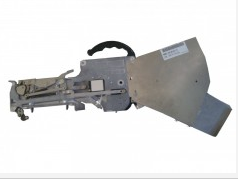 Yamaha 12 mm CL smt tape feeder 
Specification:
The feeder is made in china, in reliable performance, accepted by local public listed factories, also sold to European, America companies

. our customer including Skyworth, gbm, Hisense etc.

This auction is for yamaha 8*4mm CL smt feeder, we also supply other size, 8*2mm 0201, 8*2mm 0402, 12mm, 16mm, 24mm etc. please inquiry or see my other items. 

Due to website limit, I can only write 3 pcs, if need bulk quantity, please inquiry.
BRAND:YAMAHA +
FIT
RANGE:0603、0805、1206,IC,ETC
KW1-M1300-020
YAMAHA8*2MM
KW1-M1100-030
YAMAHA
8*4MM
KW1-M2200-301
YAMAHA
CL12MM
KW1-M3200-100
YAMAHA CL16MM
KW1-M4500-015
YAMAHA CL24MM
KW1-M5500-015
YAMAHA CL32MM
KW1-M6500-015
YAMAHA CL44MM
KW1-M7500-015
YAMAHA CL56MM
   If you want to learn more, please contact me:  style@smthelp.com