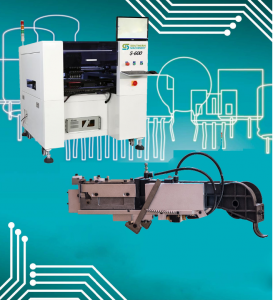 The S-600-OF is a revolutionary new concept from southern machinery.  This Pick and Place machine allows the placement or insertion of both surface mount and through-hole components.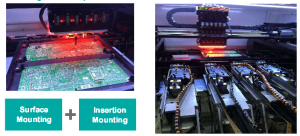 S-600-OF Smt Machines Automatic Led Pick And Place Machine,Automatic Placement Machine,Smt Machines:
S-600-OF High-Speed, High-Mix PCB mounting machine pick and place robot machine Assemble Electronics PCB with required precision.
Built upon the same architecture as Southern Machinery's popular OF Series of SMT placement machines, the S-600-OF is specially designed for handling small electronics PCBs, with high-precision and quick turn-around times. Based on the S-OF Series' heavy-duty ball-screw and linear-encoded drive train, its six heads and bottom vision allow accurate placement of major SMD, including 0402 chips, IC, 0.5mm pitch QFPs and LEDs, and some THT components.
Product Description
S-600-OF pcb mounting machine pick and place robot machine Features
Six pick-up heads.

Practical placement speed to 18,000 cph.

Huge Component Range: places SMDs from 0402 to 15 mm x 15 mm, including resistors, capacitors, inductors, diodes/audion , IC, SOTs, SOPs, QFPs and CSPs, and THT components.

Feeder racks can accommodate a mix of tape feeders and IC tube/stick feeders or 5 THT components feeder.

Teaching/fiducial recognition camera for easy programming & operation

Customized nozzles available.

Bottom fixed-camera vision system for fast, accurate alignment.

Ball screw drive and heavy-duty, uni-body construction ensure smooth, high-speed movement and high accuracy and repeatability.

SMEMA-compatible inline conveyor .
S-600-OF pcb mounting machine pick and place robot machine – General Specifications