Sp

eci

fication

s

  PCB Size
Max.50~250mm
   Conveyor height
750±50mm
Conveyor speed
0~1.8M

/

Min

Conveyor Angle
3~7º (adjustable)
Conveyor direction
L->R
Component heigh
Max.100mm
Pre-heating zone
600mm
Solder pot wave
2
Pre-heating power
3kw
Pre-heating zone temp
room temperature–250°C
Cooling zone
1Fan cooling
Solder pot power
6kw
Solder pot capacity
Approx.200KG
Solder pot temperature
room temperature–300°C±1-2

℃

Control method
P.I.D+SSR
System Control
PLC + Touch Screen Control
Flux capacity
Max5

﹒

2L

Spray Fluxer
ST-6 Spray
Power Supply
3P 380V AC
Total Power
max.9kw
Normal working power
Approx.1.5kw
Air Pressure
4~7KG/CM2
Overall Dimensions
L2100×W1200×H1400MM
Machine Weight
Approx.400kg
Preparation before operation
1)Check the electric box has loose line and short circuit conditions or not;
2)check the transmission part if there is any Unidentified thing stuck;
3)check the preheating box have flammable objects and debris or not;
4)check the air pressure have 4 to 7 kg/cm or not
5)check whether the power supply three phase five wire, ground wire of resistance under 10R;
6)check whether the spray transverse cylinder flexible;
7) check the flux box if there is flux or not;
8)check whether the spray filter through content;
B  The machine hardware installation and instructions 
Install import board Conveyor
Take the import board conveyor to install docking, screw can be adjusted up and down the balance.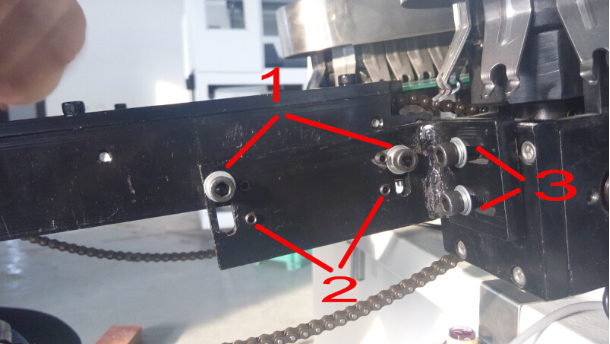 Note: 1.Conveyor guide high and low level adjustment
     2.Conveyor guide vertical level adjustment
     3.Conveyor guide right and left adjustment
Must let import conveyor chain plane into a straight line with claw.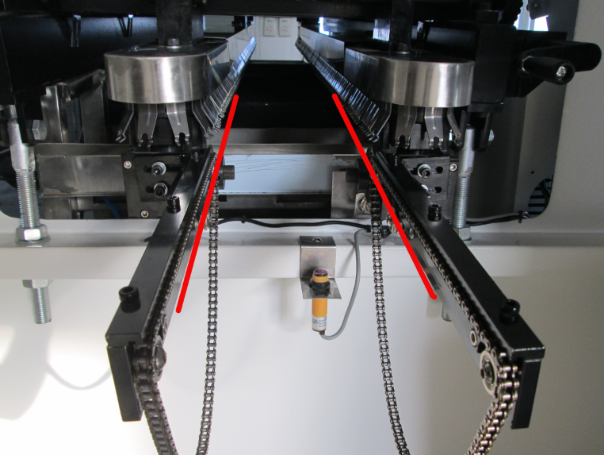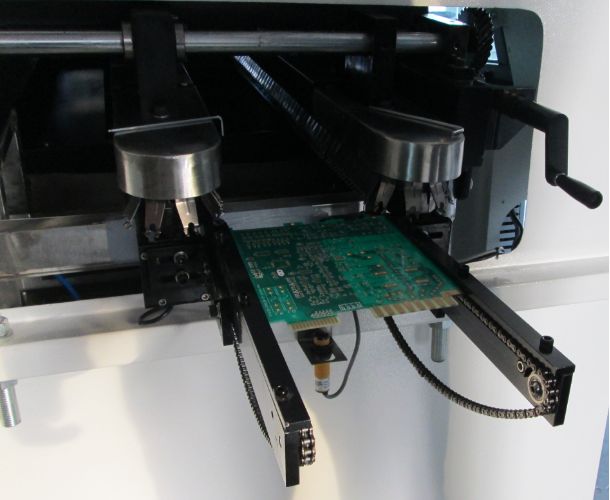 Install the oil-water separator 
a.Oil-water separator is installed on the side of board import hole where has a small hole (The above has two cross screws )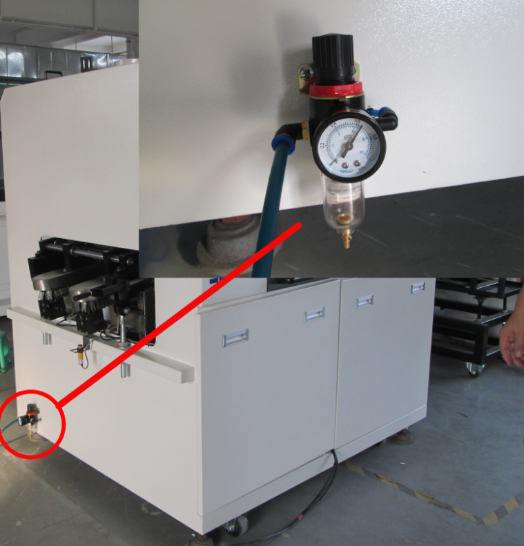 b.Plug in pipe ,installation is completed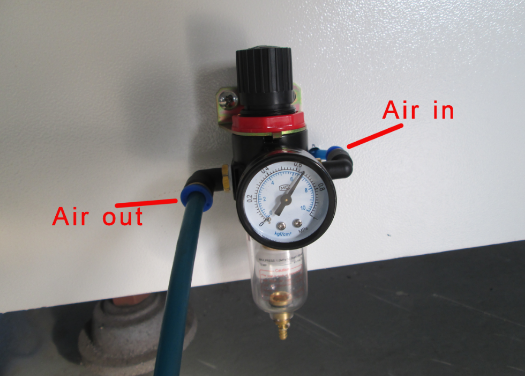 Molten tin stove installation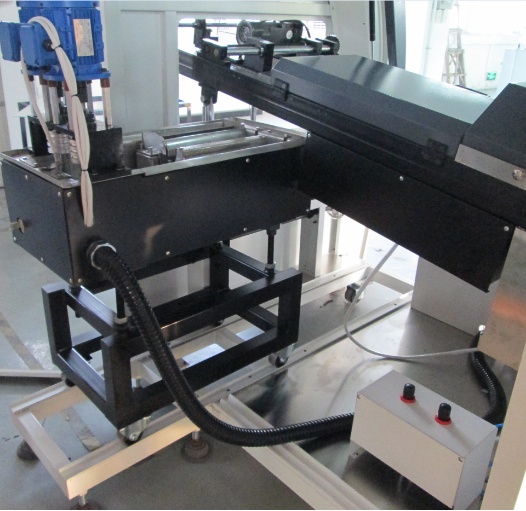 a, the tin stove frame is installed in the position of tin stove in and out . 
b.The tin should be distributed on the sides and bottom of the tin stove.(In order to avoid empty tin stove burning lead to deformation )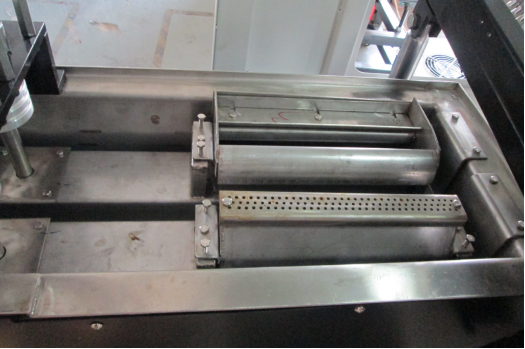 c.Open a tin furnace for heating temperature 
d.In the process of heating, when tin melting on both sides of the tin stove,must continue to add tin. Until it is full .
e.Tin surface should be the plane in 5 mm different with tin stove . As the best state. 
Following figure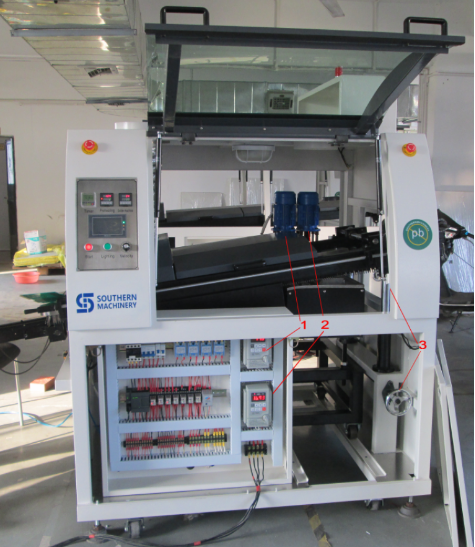 Note: 1.The first wave control speeder
      2.The second wave control speeder
      3.Chain height adjustment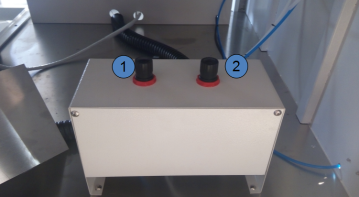 Note: 1.Adjust the size of air demand of rosin spraying 
      2.Adjust the size of air demand of rosin spraying moving orbit
Press the control switch on the operation panel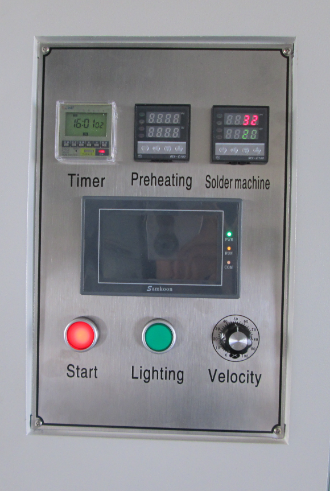 | | |
| --- | --- |
| Timer | Timing Switch |
| Preheating | Preheating Setting |
| Solder Machine | Tin Stove Tempreature Setting |
| Start | Power Switch |
| Lighting | Lamp Siwtch |
| Velocity | Chain Speed |
Monitoring menu: boot monitor will show as below
  Touch screen display and flashing automatically ;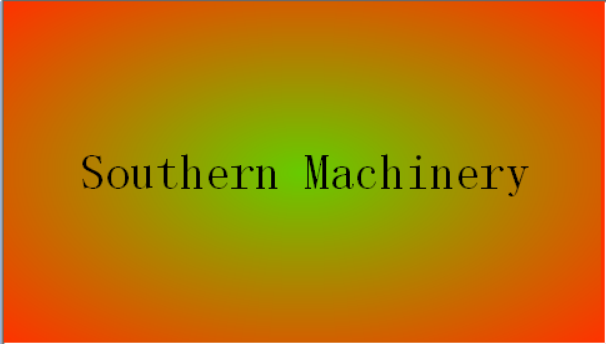 According to company name to the main menu. Any touch screen to enter the next menu.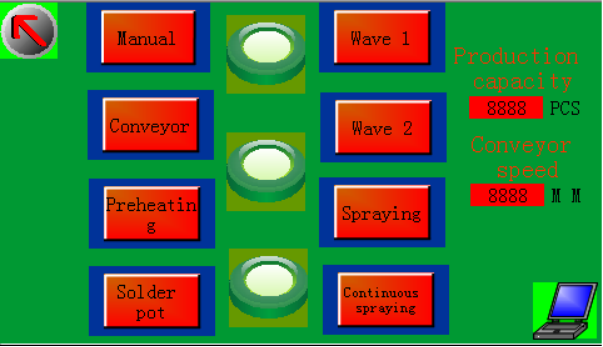 This grapics for operating 
a:In this picture is able to transport, spray, wave, washing, tin stove,manual/
automatically control one by one.
b:Tin stove is automatically start when turn on PC
c.Production counter starts counting from the first piece of PCB. 
d:Transportation speed display 。"U" type optical eye not shown without 
   detection.(" U "light eyes in export of equipment )
e:"Settings"button to enter the next menu.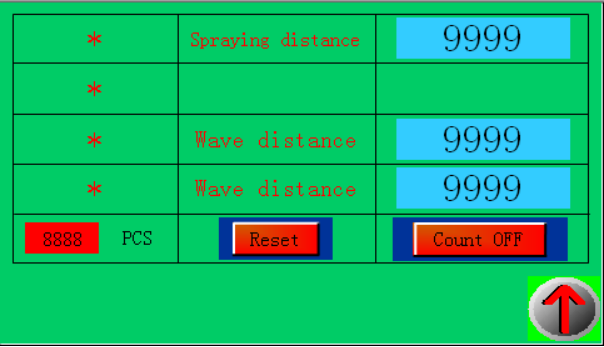 This menu is the main menu of setting spray distance, wave distance, peak time.
a: Spraying distance, setting value refers to the distance from light eyes into the sprayer.
b:wave distance, setting value refers to the distance from light eyes into the tin stove.
c:wave time, setting value refers to the automatic state the time of the wave crest.
(note: the value set are analog value, not as the actual distance and time.)
 In the control panel of preheating and tin stove temperature control table
a: SV : Set value,
b: PV : easurements value.
c: OUT for SSR output signals
d: AT : PID automatic calculation indicator 
e: ALM1 : Alarm 1 light
f: ALM2 : Alarm 2 lights
g: SET keys function keys.
h: Another three arrow button is used to set value.
Maintenence 
1), Check whether the transmission has lubrication and smooth;
2), Check the transmission system fixed position whether there is loose;
3), Check whether the chain claw has a deformed shape;
4), Check whether the preheating box with debris, dust, and  the stagnational flux ,clean them up;
5), Check the filter and remove flux cover and clean residue excess;
6), Check the sprayer spray atomization system is uniform or not, transverse cylinder smooth or not;
7), Check the tin oxide black powder, slag is too much or not;
8), Check whether the plane wave soldering tin is stable,  thoroughly clean again per 400h.
Attention
1), Never put flux in a preheated box and tin stove 
2), Never will drip flux on machinery and equipment with high temperature and electric box; 
3), Absolutely can't  unlimited heating when without adding tin in tin stove; 
4), Grounding line must be reliable; 
5), Tin stove temperature optimal setting temperature to 260 ± 5 degrees; 
6),The best transmission speed : 0.8-1.3 m/min. 
7),Best preheating temperature, PCB welding side temperature :100±10 degrees. 

<br /> &amp;lt;br /&amp;gt; &amp;amp;lt;br /&amp;amp;gt; &amp;amp;amp;lt;br /&amp;amp;amp;gt; &amp;amp;amp;amp;lt;br /&amp;amp;amp;amp;gt; &amp;amp;amp;amp;amp;lt;br /&amp;amp;amp;amp;amp;gt; &amp;amp;amp;amp;amp;amp;lt;br /&amp;amp;amp;amp;amp;amp;gt; &amp;amp;amp;amp;amp;amp;amp;amp;lt;br /&amp;amp;amp;amp;amp;amp;amp;amp;gt; &amp;amp;amp;amp;amp;amp;amp;amp;amp;lt;br /&amp;amp;amp;amp;amp;amp;amp;amp;amp;gt; &amp;amp;amp;amp;amp;amp;amp;amp;amp;amp;lt;br /&amp;amp;amp;amp;amp;amp;amp;amp;amp;amp;gt; &amp;amp;amp;amp;amp;amp;amp;amp;amp;amp;amp;lt;br /&amp;amp;amp;amp;amp;amp;amp;amp;amp;amp;amp;gt; &amp;amp;amp;amp;amp;amp;amp;amp;amp;amp;amp;amp;amp;lt;br /&amp;amp;amp;amp;amp;amp;amp;amp;amp;amp;amp;amp;amp;gt; &amp;amp;amp;amp;amp;amp;amp;amp;amp;amp;amp;amp;amp;amp;amp;amp;amp;lt;br /&amp;amp;amp;amp;amp;amp;amp;amp;amp;amp;amp;amp;amp;amp;amp;amp;amp;gt; &amp;amp;amp;amp;amp;amp;amp;amp;amp;amp;amp;amp;amp;amp;amp;amp;amp;amp;amp;lt;br /&amp;amp;amp;amp;amp;amp;amp;amp;amp;amp;amp;amp;amp;amp;amp;amp;amp;amp;amp;gt; &amp;amp;amp;amp;amp;amp;amp;amp;amp;amp;amp;amp;amp;amp;amp;amp;amp;amp;amp;amp;lt;br /&amp;amp;amp;amp;amp;amp;amp;amp;amp;amp;amp;amp;amp;amp;amp;amp;amp;amp;amp;amp;gt; &amp;amp;amp;amp;amp;amp;amp;amp;amp;amp;amp;amp;amp;amp;amp;amp;amp;amp;amp;amp;amp;lt;br /&amp;amp;amp;amp;amp;amp;amp;amp;amp;amp;amp;amp;amp;amp;amp;amp;amp;amp;amp;amp;amp;gt;&amp;amp;amp;amp;amp;amp;amp;amp;amp;amp;amp;amp;amp;amp;amp;amp;amp;amp;amp;amp;lt;br /&amp;amp;amp;amp;amp;amp;amp;amp;amp;amp;amp;amp;amp;amp;amp;amp;amp;amp;amp;amp;gt;&amp;amp;amp;amp;amp;amp;amp;amp;amp;amp;amp;amp;amp;amp;amp;amp;amp;amp;amp;lt;br /&amp;amp;amp;amp;amp;amp;amp;amp;amp;amp;amp;amp;amp;amp;amp;amp;amp;amp;amp;gt;&amp;amp;amp;amp;amp;amp;amp;amp;amp;amp;amp;amp;amp;amp;amp;amp;amp;lt;br /&amp;amp;amp;amp;amp;amp;amp;amp;amp;amp;amp;amp;amp;amp;amp;amp;amp;gt;&amp;amp;amp;amp;amp;amp;amp;amp;amp;amp;amp;amp;amp;lt;br /&amp;amp;amp;amp;amp;amp;amp;amp;amp;amp;amp;amp;amp;gt;&amp;amp;amp;amp;amp;amp;amp;amp;amp;amp;amp;lt;br /&amp;amp;amp;amp;amp;amp;amp;amp;amp;amp;amp;gt;&amp;amp;amp;amp;amp;amp;amp;amp;amp;amp;lt;br /&amp;amp;amp;amp;amp;amp;amp;amp;amp;amp;gt;&amp;amp;amp;amp;amp;amp;amp;amp;amp;lt;br /&amp;amp;amp;amp;amp;amp;amp;amp;amp;gt;&amp;amp;amp;amp;amp;amp;amp;amp;lt;br /&amp;amp;amp;amp;amp;amp;amp;amp;gt;&amp;amp;amp;amp;amp;amp;lt;br /&amp;amp;amp;amp;amp;amp;gt;&amp;amp;amp;amp;amp;lt;br /&amp;amp;amp;amp;amp;gt;&amp;amp;amp;amp;lt;br /&amp;amp;amp;amp;gt;&amp;amp;amp;lt;br /&amp;amp;amp;gt;&amp;amp;lt;br /&amp;amp;gt;&amp;lt;br /&amp;gt;<br />

Improving PCBA wave soldering Quality from Shenzhen Southern Machinery Sales And Service Co., Ltd

<br /> &amp;lt;br /&amp;gt; &amp;amp;lt;br /&amp;amp;gt; &amp;amp;amp;lt;br /&amp;amp;amp;gt; &amp;amp;amp;amp;lt;br /&amp;amp;amp;amp;gt; &amp;amp;amp;amp;amp;lt;br /&amp;amp;amp;amp;amp;gt; &amp;amp;amp;amp;amp;amp;lt;br /&amp;amp;amp;amp;amp;amp;gt; &amp;amp;amp;amp;amp;amp;amp;amp;lt;br /&amp;amp;amp;amp;amp;amp;amp;amp;gt; &amp;amp;amp;amp;amp;amp;amp;amp;amp;lt;br /&amp;amp;amp;amp;amp;amp;amp;amp;amp;gt; &amp;amp;amp;amp;amp;amp;amp;amp;amp;amp;lt;br /&amp;amp;amp;amp;amp;amp;amp;amp;amp;amp;gt; &amp;amp;amp;amp;amp;amp;amp;amp;amp;amp;amp;lt;br /&amp;amp;amp;amp;amp;amp;amp;amp;amp;amp;amp;gt; &amp;amp;amp;amp;amp;amp;amp;amp;amp;amp;amp;amp;amp;lt;br /&amp;amp;amp;amp;amp;amp;amp;amp;amp;amp;amp;amp;amp;gt; &amp;amp;amp;amp;amp;amp;amp;amp;amp;amp;amp;amp;amp;amp;amp;amp;amp;lt;br /&amp;amp;amp;amp;amp;amp;amp;amp;amp;amp;amp;amp;amp;amp;amp;amp;amp;gt; &amp;amp;amp;amp;amp;amp;amp;amp;amp;amp;amp;amp;amp;amp;amp;amp;amp;amp;amp;lt;br /&amp;amp;amp;amp;amp;amp;amp;amp;amp;amp;amp;amp;amp;amp;amp;amp;amp;amp;amp;gt; &amp;amp;amp;amp;amp;amp;amp;amp;amp;amp;amp;amp;amp;amp;amp;amp;amp;amp;amp;amp;lt;br /&amp;amp;amp;amp;amp;amp;amp;amp;amp;amp;amp;amp;amp;amp;amp;amp;amp;amp;amp;amp;gt;&amp;amp;amp;amp;amp;amp;amp;amp;amp;amp;amp;amp;amp;amp;amp;amp;amp;amp;amp;lt;br /&amp;amp;amp;amp;amp;amp;amp;amp;amp;amp;amp;amp;amp;amp;amp;amp;amp;amp;amp;gt;&amp;amp;amp;amp;amp;amp;amp;amp;amp;amp;amp;amp;amp;amp;amp;amp;amp;lt;br /&amp;amp;amp;amp;amp;amp;amp;amp;amp;amp;amp;amp;amp;amp;amp;amp;amp;gt;&amp;amp;amp;amp;amp;amp;amp;amp;amp;amp;amp;amp;amp;lt;br /&amp;amp;amp;amp;amp;amp;amp;amp;amp;amp;amp;amp;amp;gt;&amp;amp;amp;amp;amp;amp;amp;amp;amp;amp;amp;lt;br /&amp;amp;amp;amp;amp;amp;amp;amp;amp;amp;amp;gt;&amp;amp;amp;amp;amp;amp;amp;amp;amp;amp;lt;br /&amp;amp;amp;amp;amp;amp;amp;amp;amp;amp;gt;&amp;amp;amp;amp;amp;amp;amp;amp;amp;lt;br /&amp;amp;amp;amp;amp;amp;amp;amp;amp;gt;&amp;amp;amp;amp;amp;amp;amp;amp;lt;br /&amp;amp;amp;amp;amp;amp;amp;amp;gt;&amp;amp;amp;amp;amp;amp;lt;br /&amp;amp;amp;amp;amp;amp;gt;&amp;amp;amp;amp;amp;lt;br /&amp;amp;amp;amp;amp;gt;&amp;amp;amp;amp;lt;br /&amp;amp;amp;amp;gt;&amp;amp;amp;lt;br /&amp;amp;amp;gt;&amp;amp;lt;br /&amp;amp;gt;&amp;lt;br /&amp;gt;<br />

Improving PCBA wave soldering Quality
from
Shenzhen Southern Machinery Sales And Service Co., Ltd