Procedure
Symptoms of corrupted BIOS and/or Boot Block:
No video signal from the EPC-16 or EPC-1316
No activity on
The keyboard, no status lights at power-on
The floppy drive with a disk in or out
The hard disk drive evident by the light off after a certain amount of time
The EPC-16 or -1316 is trying to access the CD-ROM drive with failed attempts every second or so.
The EPC-16 or -1316 is in this cycle indefinitely
Steps to take:
Power down the EPC-16 or -1316 board/machine.
Make sure that this instructions file is opened on a different computer.
At the last step of these instructions is an embedded object of the .zip folder; it contains all of the files needed for this procedure.
Right click on the .zip folder, select 'Package Object' and click on 'Activate Contents'. If a message regarding a trustworthy source is displayed, confirm that this source can be trusted. USE "EPC-16FBD1.00.9" FOR EPC-16 AND "EPC-16FBD1.00.10" FOR EPC-1316.
Create a new folder on the Desktop and rename it to "EPC-16FBD1.00.10"
Click 'File', then select and click on 'Extract All…'
Extract the .zip folder into the folder on the Desktop, created in Step 3.
Obtain a 3.5in Floppy Disk and insert it into the drive.
Open the "EPC-16FBD1.00.10" folder from the Desktop
To run an MS-DOS program, double click on the CRISDISK.BAT file.
To run a Windows Application, double click on the WINCRIS.EXE file.
Go through prompts of the program attentively; and a crisis disk will be created.
Remove the EPC-16 board from the VME chassis/rack.
At the bottom of the board there are 2 x 5 jumper pins: MFG/Flash. (Figure 1)
Figure 1 EPC-1316 Board jumper pin location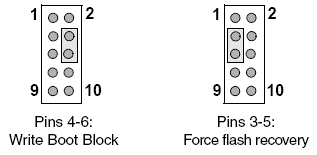 See Figure 2 for PIN-out of the Jumper pins.
Figure 2 EPC-1316 Board jumper pin numbering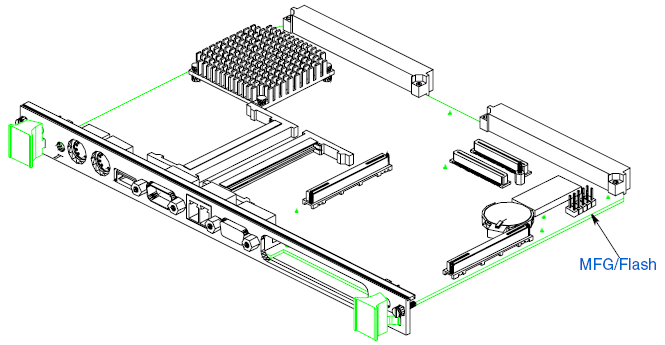 Using 2 jumpers (Figure 3): place one to jumper pins 4-6. (jumper setting 'Write Boot Block')
Place the second to jumper pins 3-5. (jumper setting 'Force flash recovery')
Figure 3 EPC-1316 Board flash jumpers configuration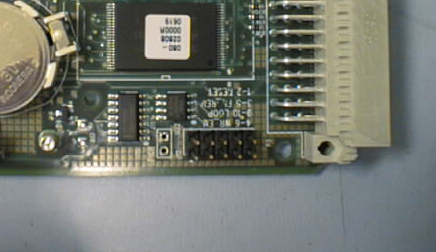 Replace the EPC-1316 board to the VME chassis/rack.
Insert the 3.5in Floppy Disk that was created from the steps above into the floppy drive.
Power-up the machine/chassis/EPC-1316.
If the status light on the floppy drive comes on and stays on, then the floppy disk is being accessed.
When the floppy drive stops accessing the Floppy Disk, wait about 15 seconds, and then remove the disk. ***PROCEDURE ONLY SEEMS TO WORK CONSISTENTLY IF YOU FLASH TWICE. SEE NOTES AT END***
Power down the EPC-1316, and remove it from the VME interface.
Remove jumpers from the board and replace the board to the VME interface.
Power-up the machine/chassis/EPC-1316 and make sure that it boots the operating system.
Refer to UIC procedures for proper BIOS settings/ configuration
ANDY'S NOTES
With 3-5 and 4-6 jumpers installed EPC-16 stays in a forced flash write cycle.  The write cycle takes 1 minute 30 secs and then there is a 50 second wait before it starts writing again.  What has consistently worked for me is to do the following:
Install jumpers.
Install EP-16.  No need to connect cabling (you can't see anything anyways).
Power on machine.  Set timer for 4 minutes. Verify that the activity light on floppy drive starts.
When timer has expired power off machine.  (See Sequence of events below for details.)
Remove EPC-16 card.
Remove jumpers and install EPC-16. Install cables this time.
Configure EPC-16 as per Advanced Support Information in UIC UPS+ support documentation.
Sequence of Events during "4 MINUTE TIMER"
1ST FLASH SEQUENCE – 1MIN 30SEC
WAIT CYCLE – 50 SECS
2ND FLASH SEQUENCE – 1MIN 30 SECS
CLOSING OF FLASH PROGRAM – 15 SECS
Original UIC Knowledge Base states to wait 5 seconds after activity light goes out.  This is not long enough for flash program to complete.
If you miss the 50 second window and activity light starts again, wait for light to go out in another minute and 30 then give it another 15 seconds and p